LED Teeth Whitening Set; 3D Bright White Dental Care Kit
Teeth whitening lightens teeth and helps to remove stains and discoloration.

Whitening is among the most popular cosmetic dental procedures because it can greatly improve how your teeth and smile look.

More and more people like to buy cost-effective Teeth Whitening Products such as Teeth Whitening Pens, Teeth Whitening Kits, etc., instead of going to an expensive dentist.
LED Wrap Shell Ingredient: Food Grade Silicone, soft and very comfortable to wear into the mouth.
Note: Teeth Whitening is not a one-time procedure, it will need to be repeated from time to time if you want to maintain the brighter color, especially for people who like to smoke, drink coffee, consume products with food coloring, etc. Usually every month or at least every 3-6 months you should to do a Teeth Whitening Treatment. Store the LED Cold Light Mouth Tray carefully for each treatment; refills available of Teeth Whitening Strips & Teeth Whitening Pens.  


With Triple Interface Adapter you can use many different devices to light the LED mouth tray, such as an Android, iOS smart phone, phone chargers, portable chargers and computer-connecting USB (some Android phones may not light the LED mouth tray fully, please use the USB instead).

After use: Quickly rinse with cold water, but be careful not to soak the LED mouth tray in water, just rinse quickly.

Main Ingredient: 35% Carbamide peroxide (equivalent to 10% hydrogen peroxide).
Other Ingredient: Deionized Water, Glycerin, Potassium Sorbate, EDTA, Polysorbate 20,  Triethanolamine, Carbomer, Flavor.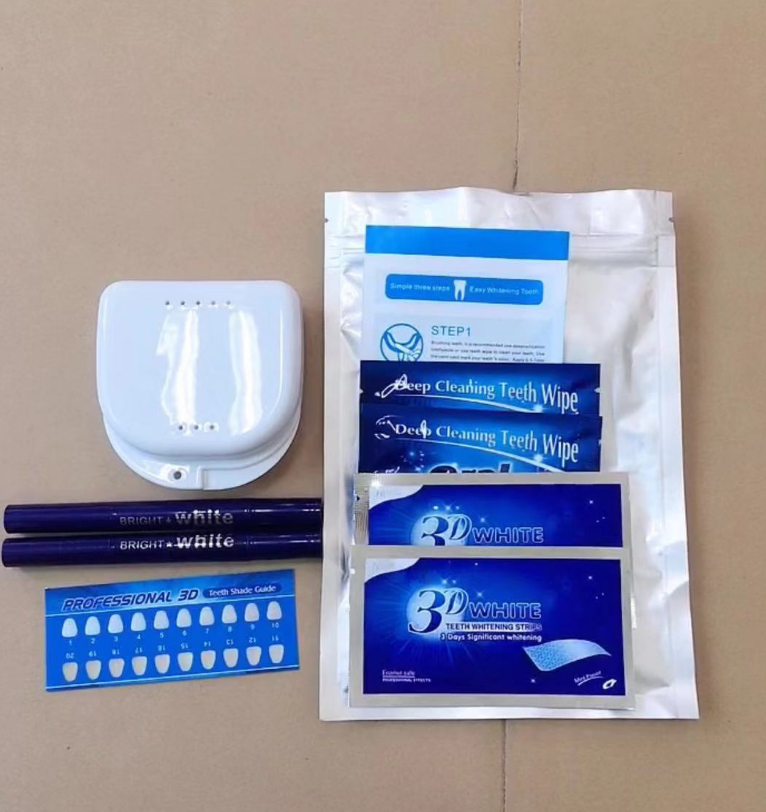 Security Level: Food Grade, Medical Grade.

Security Certification: CE, FDA.
 

Package includes
1 x 16LED Teeth Whitening Cold Light Mouth Tray.

1 x Triple Interface Adapter Cable.

1 x Advanced dust-proof Box.

2 x Teeth Whitening Pen(2ml per).

2 x 3D Tooth Strips 

2 x Teeth Wipe (For Removing film building up on the teeth surface).

1 x Professional 3D Tooth Shade Guide.

1 x Manual

1 x Foil package bag




  Please Note:

1. Be sure to reload the lid after each use, to keep the gel from drying out.

2. Store this kit in a cool place, preferably refrigerate.

3. Keep away from direct sunlight and excessive heat.

4. Do not freeze or microwave this product.

5. Different people's teeth are different, so the whitening speeds are different; it is important to use product correctly and remain patient.